2005 - Our New Boat - "Deux Poissons"
After a long search for "something larger" than "Diana III" we found an elegant 34ft steel-hulled motor yacht with a very attractive mahogany superstructure and interior, built in 1959 by the famous Royal Van Lent shipyard in Holland. Moira and I went to view her one day in May and fell in love with her. We took delivery of "Deux Poissons" (Two Fishes) on June 17th 2005, my birthday - the best birthday present I've ever had! Click here for a selection of photos.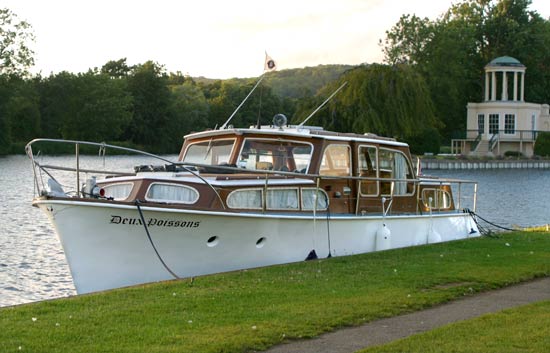 ---
2005 - New Member of the Family:
Oona Gives Birth to Sam
On Wednesday January the 19th 2005 at 5.30am my daughter Oona gave birth to a 7 pound 9 ounce baby boy - her second. Both Oona and the baby (Sam) are doing famously.
Today (Saturday) I shot some indoor photos in fairly low light (I won't use flash on a baby) and here are the results in a small album for you all to see. Click here
---
2003 - Tiffany's Graduation
We attended my younger daughter Tiffany's Graduation, or rather "Ceremony For The Conferment Of Awards", at Bristol Cathedral on Thursday November 6th 2003. This was a very proud moment for Moira and myself, and most especially for Tiffany.
She was awarded a well-earned LLB (honours) in European Languages and Law by the University of the West of England. I took some photos during the ceremony (by available light, which was very little, hence the poor quality) and afterwards. Click here to view them.
---